Photos By Meta

Meta Reviews Apple iPhone 14 Pro Models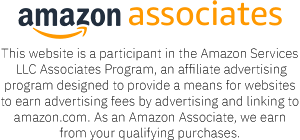 How To Use Apple iPhone 14 Pro For Photography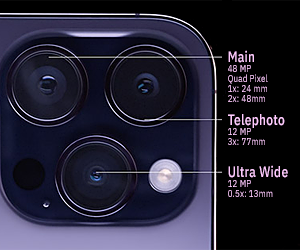 Our Best Apple iPhone 14 Pro Models (iOS 16)

For Photography, We use the Apple iPhone 14 Pro 1TB and Apple iPhone 14 Pro Max 1TB, which feature an innovative all new ƒ/1.78 48MP Main Camera with an advanced quad-pixel sensor for mind-blowing detail for 8064 x 6048 Pixels (26.9" x 20.1" @ 300 dpi) Photos when shooting in ProRAW.

This is a 2x improvement in low light photos on the Main Camera. Apple iPhone 14 Pro Models feature 4 Camera Selections: 0.5x, 1x, 2x and 3x. We Highly Recommend the 1TB Models, because Pro RAW Photo Files can be around 80 Megs each.

Powered by the Ultimate A16 Bionic Chip, the Apple iPhone 14 Pro Models are available in 4 colors; Deep Purple, Gold, Silver and Space Black. Protection includes new Ceramic Shield Glass protection, water resistance and made from Surgical grade stainless steel. Comes in two sizes: Apple iPhone 14 Pro 6.1" and Apple 14 Pro Max 6.7" displays.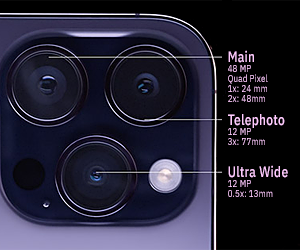 Apple iPhone 14 Pro Model Camera Specs

Main 48MP Camera

12 MP / 48 MP
24 mm / 48 mm (2x Telephoto)
Quad Pixel Sensor
ƒ/1.78 Aperture
100% Focus Pixels
7 Element Lens
Sensor shift OIS (2nd gen)
RAW Pixel Output: 8064 x 6048
Print Size @ 300 dpi: 26.9" x 20.1"
Giclee Print Size @ 200 dpi: 40" x 30"
Telephoto Camera

12 MP
77 mm
3x Optical Zoom
ƒ/2.8 Aperture
3% Focus Pixels
6 Element Lens
OIS
Pixel Output: 4032 x 3024
Print Size @ 300 dpi: 13.4" x 10"
Ultra Wide Camera

12 MP
13 mm
120° Field of View
ƒ/2.2 Aperture
100% Focus Pixels
6 Element Lens
Lens Correction
Pixel Output: 4032 x 3024
Print Size @ 300 dpi: 13.4" x 10"


Photos By Meta

PO Box 1571
Blowing Rock, NC 28605